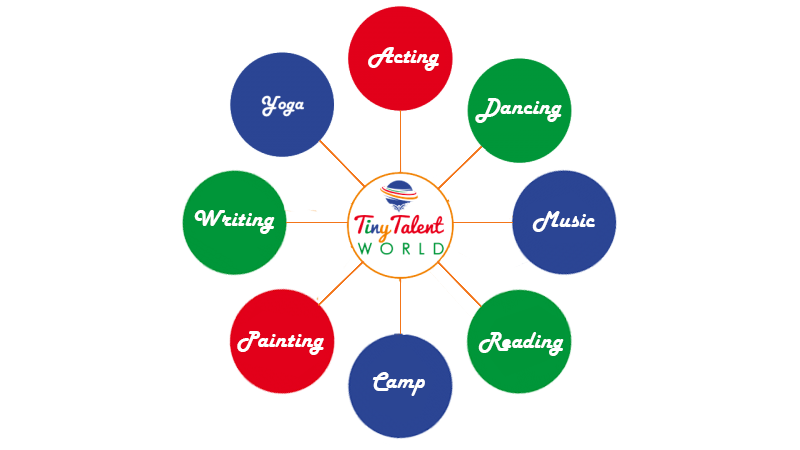 Tiny Talent World Vision Statement
Tiny Talent World's vision is to expand its reach beyond its local efforts and promote global exposure of the arts and the performing arts for its members around the world.
Tiny Talent World's ultimate goal is to help our members succeed in their desired artistic journeys and their good deeds become a vital aspect of the next generation.
Tiny Talent World aspires to both give and create a place for parents where they can be equally involved in the creative development of their children's lives, hands on. It is an artistic environment where children, parents and casting directors will find the casting experience easier and more comfortable. Tiny Talent World believes this will lead to more success, professionally and personally, for children as well as minimize the challenges they typically face in "showbiz." The development of their creativity will boost self-esteem and increase performance skills, and they will be able to benefit from the experience on their own time, on their own journey. They will therefore have more successes in their auditions, whether this creates opportunities to fund a college degree or simply guides them to be successful social communicators with great self-esteem on into their adult lives. The opportunity to create and perform is given equally to children from all economic backgrounds; Tiny Talent World is here and will be here to support them.
Tiny Talent World will feature songs and rhythms produced by the winners of a Tiny Talent World competition and will create its own magazine that will tell the stories of its members' talents around the world.
Tiny Talent World is hoping to design and make the above forms of activity and their successes, and to consolidate different ethnic backgrounds, languages and cultures through the arts. This will help the next generation to balance the effects of fast-paced technology on western children with the slower pace of children of the developing countries. There will be a possibility for them to inspire each other through the simplest things, and the most common thing in the world: art. In addition, the financial success of the whole process and experience will help minimize child poverty in Canada and around the world. Tiny Talent World believes its artistic members can create a more peace-minded generation and a real consciousness of a better place. These children will become great leaders/facilitators who make their way through life without self-destruction or war; they will create a place as inviting as the one Louis Armstrong sang of in his classic song "What a Wonderful World."
Tiny Talent World Mission Statement
Tiny Talent World's mission is to provide the best possible support and development for children in the arts and the performing arts in all their forms. It is to build a great sense of self-esteem for children of all backgrounds and ethnicities around the world. Through the arts they will grow up to be great leaders of their communities and the world. They will grow into their adulthood not afraid to speak in public, be comfortable with the person they are, and fight for their true purpose in life. Whether they become the next star in Hollywood or simply a star at the simplest job in their choice of profession, we believe the next generation of children will the one that will create their own work profile. We are here to help them build that confidence and help them leave our world a better place than they have found it.
Tiny Talent World is in the business of helping children in the arts and the performing arts. Tiny Talent World is in the business of helping parents raise confident, happy, artistic children, and making it easy, affordable, and a non-exploitative process for them.
Tiny Talent World's customers are parents of babies, children and pre-teens, as well as casting directors, advertising agencies, photographers and production companies.
Tiny Talent World's unique selling point is that it's not only a centre focused on children in the arts and the performing arts but it also specializes in helping children who want to or have the ability to further their skills into a career. Tiny Talent World is also the most trusted in looking out for its members' needs, wants, progression, and development through artistic creativity and financial profitability. Tiny Talent World will be unique with its prompt response and flexibility in regard to parents' schedules and industry needs and trends. Tiny Talent World has a catchy, clear and distinctive name that clearly states its business purpose, and its position as a one-stop arts destination for all parents and their children, to all casting directors and production companies. Tiny Talent World aims to be the destination place for young talent who wish to develop their creativity as they undergo their artistic journey.
Tiny Talent World rises above the competition because it offers a specialized variety of services to the entertainment industry due to its focus on different ethnic backgrounds and multicultural and multi-language diversity. It is a place where parents can access the knowledge they need to support their children's goal of working in the film industry and a place where they can be just themselves. It also offers parents a place where their children's development in the arts can be supported through various ages and stages. It is also a place where they can drop in when the weather is bad and provide themselves and their children with entertainment. It is a place where birthdays can be celebrated and homework completed. We offer our services mainly in English, but children and families of all backgrounds are welcome. We cater mostly to English, French and Mandarin-speaking children, families, casting directors, producers, and ad agencies, so the centre is truly trilingual.